EECP® Therapy Patient Setup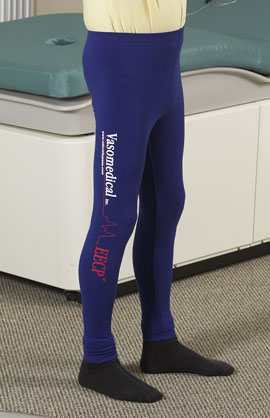 Treatment Pants
Patients are urged to wear tight fitting treatment pants (and pantyhose) as a protective layer between the treatment cuffs and skin to minimize skin irritation. Treatment pants should be sized for a smooth fit on the legs, not for abdominal girth. Waistband elastic can be cut if too tight. Excess fabric can wrinkle and cause skin irritation. Treatment pants are available in various sizes. Treatment pants should be worn tightly and be wrinkle free with the inseam stitching on the outside. Each patient is given a pair of treatment pants when treatment is begun. These pants may either be taken home to be laundered and maintained by the patient or kept at the treatment center.
For patients between pant sizes, use smaller sized pants thus minimizing excess fabric and the possibility of wrinkles and skin irritation.
Treatment Cuffs
Patients are wrapped from waist to ankles in specially designed inflatable cuffs which compress and decompress the lower extremities during EECP® Therapy. Upper thigh / buttock and lower thigh girth are used to approximate cuff sizing. Hook and loop bindings should overlap for secure wrapping. Abdominal extension straps are available to facilitate wrapping of patients with a large abdomen and small thighs. Cuffs are available in various sizes. Cuffs should be wrapped tightly. Internal wrinkles should be minimized.
For patients between cuff sizes, choose the larger sized cuffs. Larger cuffs compress greater body surface area increasing blood flow and providing more effective counterpulsation.
Note: Larger cuffs may occasionally extend to, or slightly below the knee. Apply the calf cuffs first, then secure the lower thigh cuff to overlap the calf cuff.
Cuff Sizing - There are six sizes of cuffs, from XX-Large to extra small. The size is chosen based on the patient's height and weight. For detailed information, refer to Unit 7-18 in the The Therapist's Guide to Enhanced External Counterpulsation.
Electrode Placement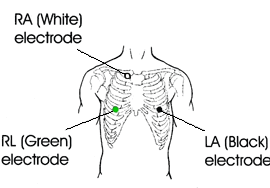 Step 1. Determine optimal positioning of electrodes
Green: (Ground) on right 4th or 5th rib, mid-clavicular to axillary line
White: (Negative) on right sternal border or clavicle
Black: (Positive) on the left 4th or 5th rib mid-clavicular to axillary line
Using the 12-lead ECG identify the lead which yields the highest positive R wave. Typical placement is seen in the diagram.
Apply the Vasomedical ECG electrodes before applying cuffs.
All electrodes should be placed over bone.
Step 2. Prepare skin
All medications should be taken as prescribed. As patients progress through treatment, dosage adjustments may be indicated.
Shave area if exessive hair is present.
Cleanse skin with clean gauze pads by gently rubbing area with Nuprep™ Skin Prepping Gel.
Note:Rub into skin lightly; over-abrading can cause injury. If needed, use more strokes, not more pressure.
Remove excess gel.
Note: Daily skin assessment and variation of electrode sites may be necessary to prevent skin irritation.
Step 3. Apply electrodes
Remove electrodes from a freshly opened package and assess its condition.
Note:VasoMedical ECG electrodes are recommended for the delivery or EECP® Therapy
Note:The electrode should appear moist. If the electrode appears dry, apply a small drop of SignaGel® ECG conductive gel to the sponge core of the electrode and work the gel into the sponge. Do not allow gel to spread to adhesive edge.
Place each electrode adhesive side down onto the prepared skin lcoation. Next, starting with the outer edge, run your finger around the electrode several times toward the center. Then place gentle pressure at the center of the electrode to enhance gel absorption by the skin.
Step 4. Connect lead wires and attach wires to electrode
Check to ensure that all ECG wires are securely connected to the ECG cable yoke.
Clip ECG cable yoke to patient's pillow
Thread lead wires down the side of the neck and beneath clothing. Leave slack in the lead wires to prevent tension.
Snap ECG wires to electrodes by gently pressing at the center of electrode.
IMPORTANT: Should ECG problems persist, call 1-800-455-EECP. Refer to skin preparation gel, electrode gel and electrode manufacturers' labeling for further instructions.
For reordering information, please visit shop.vasomedical.com
---